A unique and beautiful outdoor wedding venue in Cedar Rapids
Our newly designed outdoor ceremony site is the perfect blend of nature and elegance, providing the most picturesque backdrop for your wedding ceremony. In this comprehensive blog post, we will explore the enchanting features of our outdoor space and share some ideas on how to create the most memorable experience for you and your guests.
The Beauty of Nature as a Backdrop
Our outdoor ceremony site is situated at the top of the property, just steps away from the Grand Ballroom. Imagine exchanging vows under a 200+ year-old oak tree, symbolizing eternal love and commitment. This dreamy setting can accommodate up to 120 guests with built-in benches, and there's plenty of room for standing or additional chairs. The lush greenery and natural beauty of our outdoor wedding venue in Cedar Rapids will make your wedding day truly unforgettable.
The Significance of the Oak Tree
The oak tree has long been a symbol of strength, endurance, and wisdom. Its presence at your wedding adds a layer of depth and meaning to your special day, representing the strength and longevity of your love. As you exchange vows beneath its branches, you will be surrounded by the comforting embrace of nature, providing a serene and intimate atmosphere for your ceremony.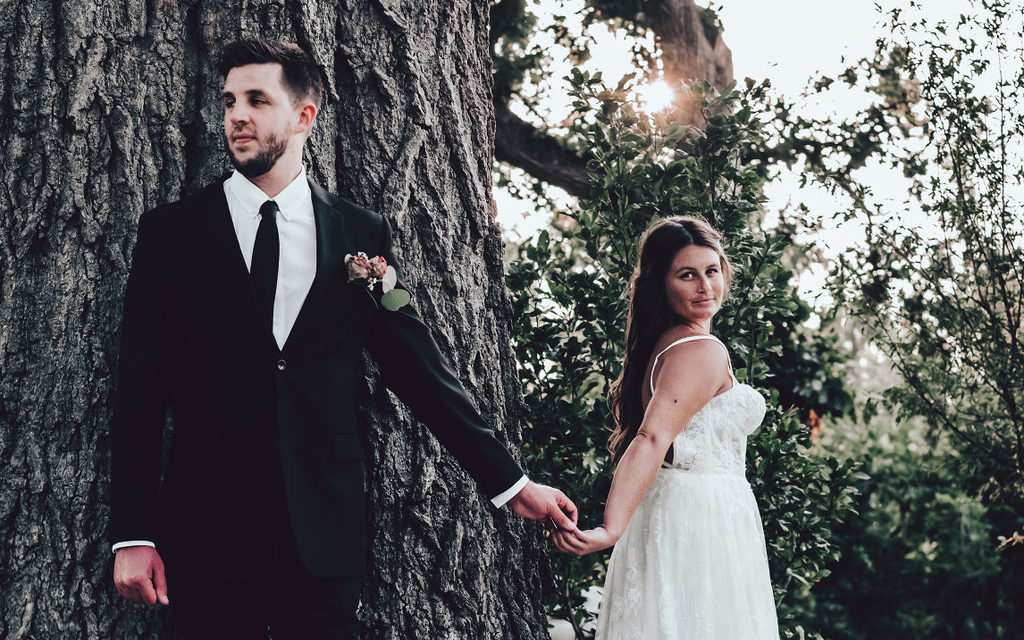 The Perfect Season for an Outdoor Wedding
Choosing the right time of year for your outdoor wedding in Cedar Rapids is essential. Each season brings its own unique beauty, from the vibrant colors of fall to the fresh blooms of spring. Consider the natural color palette and ambiance of each season when planning your wedding decor and theme, ensuring a seamless blend of indoor and outdoor elements.
Choosing the Perfect Outdoor Wedding Decorations
To complement the natural beauty of our outdoor ceremony space, consider choosing decor that enhances the surroundings. Soft, flowing fabrics, delicate floral arrangements, and charming rustic touches can create a warm and inviting atmosphere. String lights or lanterns hanging from the oak tree can add a touch of whimsy and romance as the sun sets. Remember, less is often more when it comes to decorating an outdoor wedding venue – let the natural beauty of the space shine through.
Ceremony Arch or Arbor
An arch or arbor serves as a focal point for your outdoor ceremony, framing the couple as they exchange their vows. Choose a design that complements the natural surroundings, such as a simple wooden arch adorned with greenery and flowers or a wrought iron arbor draped with sheer fabric. This addition will help define the space and provide a stunning backdrop for your wedding photos.
Aisle Decorations
Transform the path leading to the oak tree into a magical aisle with thoughtful decorations. Line the aisle with lanterns, candles, or flower petals to create a warm, romantic atmosphere. Alternatively, use shepherd's hooks adorned with small floral arrangements or mason jars filled with fairy lights to add a touch of rustic charm. Be mindful of your guests' comfort when selecting aisle decorations, ensuring they do not obstruct the view or create a tripping hazard.
Chair and Bench Decor
Adding subtle decor to the built-in benches or additional chairs can enhance the overall aesthetic of your outdoor ceremony. Consider tying ribbons, garlands, or small floral arrangements to the back of each chair to create a cohesive look. If your wedding is during a cooler season, consider providing blankets or shawls for your guests, draped over each chair for added comfort and style.
Making a Memorable Entrance
As you walk down the aisle towards your fiancé, all eyes will be on you. Make the most of the breathtaking outdoor setting by creating a memorable entrance. Choose a song that reflects your love story or personalizes the moment, and consider enlisting the help of friends or family to escort you down the aisle. As you make your way towards the majestic oak tree, your guests will be captivated by the beauty and intimacy of your outdoor wedding venue in Cedar Rapids.
The Bridal Procession
The bridal procession is a significant moment in your ceremony, as it sets the tone for the entire event. Take the time to carefully select the music and order of your procession. Traditionally, the officiant, groom, and best man enter first, followed by the bridesmaids and groomsmen, flower girl, and ring bearer. Finally, the bride makes her grand entrance, escorted by her father or another significant family member. However, feel free to customize your procession to reflect your personal preferences and relationships.
Unique Transportation Options
Make your entrance even more memorable by arriving at the ceremony in a unique mode of transportation. Consider a horse-drawn carriage, vintage car, or even a bicycle built for two. This creative touch will not only surprise and delight your guests but also provide a memorable photo opportunity.
Personalizing Your Entrance
Your entrance is an opportunity to showcase your personality and style as a couple. Consider incorporating cultural traditions, family customs, or unique elements that represent your shared interests. This personal touch will make your entrance feel even more meaningful and memorable.
Weather Considerations
At Longbranch Weddings, we understand that weather can be unpredictable. Rest assured that our indoor space will be available in the event of inclement weather, so you can enjoy your special day without any concerns.
Rain Plan
While an outdoor wedding venue in Cedar Rapids is undeniably charming, it's essential to have a rain plan in place. Discuss the backup plan with your venue coordinator and ensure that all vendors are aware of the alternative arrangements. This way, you can transition seamlessly from an outdoor to an indoor ceremony if necessary.
Comfort Measures:
Regardless of the weather forecast, it's wise to prepare for various conditions. Provide umbrellas or parasols for your guests to shield them from the sun or rain. Consider having a tent on standby in case of unexpected showers, and if the temperature is expected to drop, provide blankets or space heaters to keep your guests warm and comfortable.
Capturing the Moment
Your outdoor wedding venue in Cedar Rapids will provide a stunning backdrop for your wedding photos. Choose a photographer with experience in outdoor settings, ensuring they can expertly capture the natural beauty of your ceremony.
First Look Photos
Many couples choose to have a "first look" before the ceremony, providing an intimate moment to see each other before walking down the aisle. This is a perfect opportunity to capture your reactions and emotions in a beautiful outdoor setting.
Sunset Photos:
Time your photoshoot to coincide with the golden hour, just before the sun sets. The warm, natural light will create a romantic ambiance, resulting in stunning wedding photos that capture the beauty of your outdoor wedding venue in Cedar Rapids.
At Longbranch Weddings, our goal is to provide you with the perfect outdoor wedding venue in Cedar Rapids, where you can create your dream ceremony.
After your ceremony, join us in the Grand Ballroom for a romantic evening of celebrations in a climate-controlled environment. Your all-in-one location for your wedding dreams awaits at our outdoor wedding venue in Cedar Rapids. Complete the form below to book your free wedding consultation and tour today!